T93R ULTRA-FINISH PROFESSIONAL TIP
Unique double-orifice atomizes the coating twice – each time finer than the first to achieve an ultra-fine finish. 28 fan pattern/orifice size combinations are available.
5000 PSI (345 BAR) 
Part No: 201-XXX
SAFETY GUARD
The hand-tight T93R Safety Guard fits most major manufacturer's airless spray guns and accepts most tips. Large knurls for a sure grip.
5,000 PSI (345 BAR) 
Part No. 200-999 – 7/8″ Thread Size
Part No. 200-998 – 11/16″ Thread Size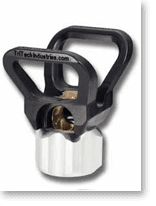 Ultra-Finish Series Sizing Chart
Example: For a tip with a .010″ orifice and a 8″ – 10″ fan pattern, order 201-410 Reversible Tip. Fan width of a spray pattern is measured at 12″ from the surface.

Our goal is to produce the highest quality airless equipment on the market today. With a high-quality product and excellent customer service, we will exceed your expectations.
Tritech Industries, Inc.
610 Rahway Avenue
Union, NJ 07083 USA
1-866-3-TRITECH
support@tritechindustries.com