Professional Spray Tip
SHARP LINER SERIES
The T-93R Sharp Liner is a tip designed for line striping roads, parking lots, runways, athletic fields, and interior floors of industrial warehouses. The spray pattern is designed to give sharp distinct lines with minimal overspray. TriTech's unique manufacturing processes result in a precise fan width and flow rate which is unmatched in the industry. The TriTech Sharp Liner reversible and flat striping tips can be used on any airless line striping machine.
SAFETY GUARDS
Part No. 200-999 – 7/8″ Thread Size
Part No. 200-998 – 11/16″ Thread Size
Below is a sizing chart indicating all the available sizes in both reversible tips and flat tip bodies.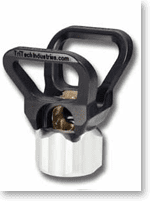 Example: For a tip with a 0.19″ orifice and providing a 6″ width line you would order (202-419). Note all fan patterns are determined at 6″ from the surface with standard viscosity traffic paint atomized at 2000psi.

Our goal is to produce the highest quality airless equipment on the market today. With a high-quality product and excellent customer service, we will exceed your expectations.
Tritech Industries, Inc.
610 Rahway Avenue
Union, NJ 07083 USA
1-866-3-TRITECH
support@tritechindustries.com